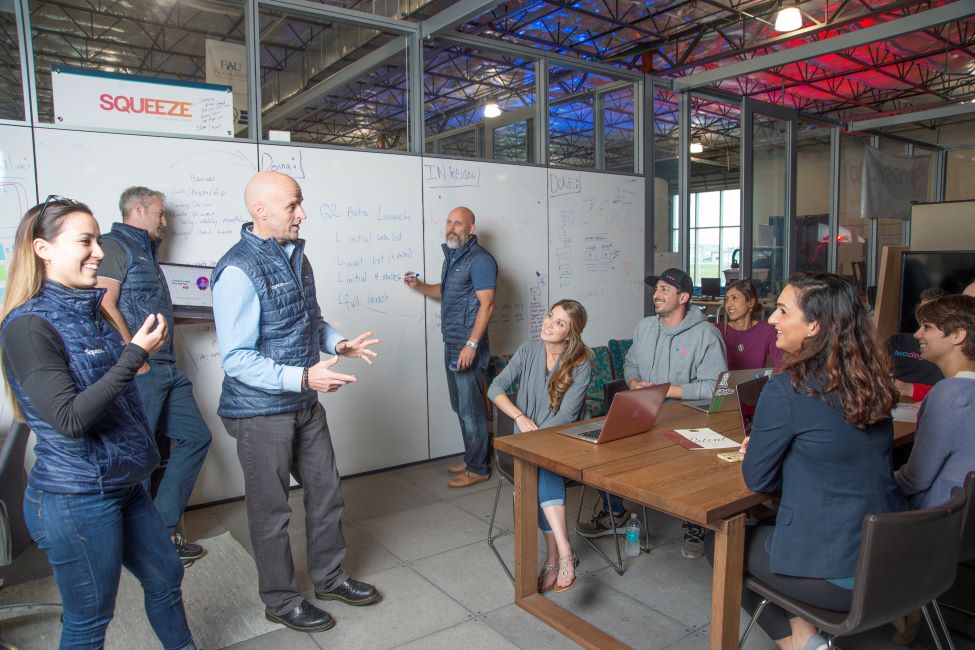 FAU Tech Runway® recently accepted 16 companies to participate in the 11th cohort of its Venture Program.
---
FAU Tech Runway® recently accepted 20 companies to participate in the 11th cohort of its Venture Program.
The Venture Program provides the most promising startups and talented entrepreneurs in South Florida with an opportunity to join a year-long program that offers resources from FAU's Innovation and Business Development pipeline, entrepreneurial instruction, structured team-based mentoring, networking, marketing and capital-raising assistance, co-working space, events, intern support, and other vital programs.
Companies accepted into the Venture Program must have strategic alignment with FAU's research focus areas, including drone technologies; educational technologies; environmental science; marine science; ocean engineering; neuroscience; healthy aging; big data analytics; artificial intelligence; machine learning; cyber security; sensing; and smart systems.
The 20 companies in Venture Class 11 are:
ADAM Rehabilitation sells dynamic performance braces and expert-level training services to individuals with full functional abilities or disabilities, to help them achieve safer and stronger joints.
AskDaddysaurus is a media-based avatar targeted at new parents to provide fun, engaging and accessible childcare content to save time and energy, increase efficiency and build confidence as a new caregiver.
AskTakeGo Inc (ATG) is a startup based in Fort Lauderdale, engaged in the development of software for the heavy construction equipment industry.
Carevocacy is a learning platform aimed at the elderly population that provides 1:1 online tutoring and classes that address social determinants of health, bridge the digital literacy gap, and offer opportunities to be competitive in the workplace.
Enchanted Wave is a Florida-based tech startup that has developed a brainwave-sensing headband and its companion mobile apps for research use, in the field of sleep and cognitive studies and sport performances.
EpiPaws is developing epigenetic biomarkers for age and health to improve pet healthcare and increase pet longevity. Its first product, the Pet Age Test, estimates age in dogs and cats from a simple mouth swab.
Esther.ai is a cloud-based Artificial Intelligence (AI) application that will disrupt the application development market. Esther.ai's objective is to reduce testing time and budget from weeks to hours post-development.
Fair Witness Technologies (a DBA of ANV Services LLC) offers a self-authenticating digital document format that is the core element of an integrated ecosystem of technology tools. This new, open-source format creates persistent authenticity.
Fitnessatyourdoor is a software as a service (SaaS) marketplace that matches trainers and clients and uses data to make recommendations to both parties to improve their results.
K Executive Solutions Inc. is a virtual assisting agency that helps business owners and busy professionals streamline their administration tasks, handling the busy work so clients can focus on what matters the most to them.
MedAI/SmartBioSense has developed an AI-driven decision support system that helps build a model to understand how well we can predict mortality, ICU admission, and mechanical ventilation for patients hospitalized with COVID-19.
Modern Trials Inc. partners with health care organizations and leverages electronic health care data to identify patients in need of advanced treatment options and match them with appropriate clinical trial opportunities.
My Autoimmune LLC empowers individuals with autoimmune conditions to take ownership of their health and well-being using holistic methods. It connects individuals with a trusted network of holistic health professionals and evidence-informed research.
Parking Genie provides an innovative peer-to-peer business concept to revolutionize how consumers park cars and store boats. Through a digital listing, homeowners can create passive income and customers can search – then pay in advance – for parking.
Primary AI is building a patient-centric data-sharing ecosystem in health care and medicine. Its primary goal is to bridge the gap between patients, providers and scientific research.
RaiseLink provides startups and startup ecosystem partners with instant matching based on personalized algorithms. Education, business planning and feedback features enhance user engagement, keeping data fresh and accurate.
RedeLit's mission is to redefine literature to help people fall in love with reading, learn how to write/read in a fun way, and bring an increase to literacy percentages in the USA – and the world – so people have a better quality of life.
ScreenPlanter LLC is a decorative planter box for horizontal beams of screen enclosures. No tools are required as the company uses ScreenExtender™ brackets. Boxes measuring 2 feet, 4 feet, 6 feet, or a Corner ScreenPlanter™ are available.
Show Agents connects overbooked realtors to local licensed showing assistants that can show properties on their behalf, similar to that of Uber for realtors.
SyncData Inc. is a compliance tech SaaS company that automates compliance norms like ISO's with the use of AI.
Venture Class 11 participants join a robust community of fellow entrepreneurs, mentors, investors, instructors and top-level support professionals.
FAU Tech Runway® is a public-private partnership formed to incubate and accelerate early-stage technology-based companies, under the purview of FAU's Division of Research. Applications for the next cycle of the Venture Program will open on March 3.
For more information on FAU Tech Runway®, visit techrunway.fau.edu.
-FAU-